New Zealand ambassador explores professional, personal connections in Nepal's Himalayas
New Zealand's envoy to Nepal Joanna Kempkers in Kunde
12,077 km. That, according to Google, is the geographical distance between New Zealand and Nepal. However, the real distance between the people of the two countries is ever shrinking thanks to the towering feat achieved by Tenzing Norgay and Sir Edmund Hillary in the summer of 1953.
Thanks to their achievement, there's a genuine feeling of warmth between New Zealanders and Nepalis that started with Hillary and others have continued. This was what Wellington's envoy to Nepal, Joanna Kempers, felt this past week as she walked in the footsteps of 'Sir Ed', New Zealand's national hero and former ambassador to Kathmandu.
"Well, it was really a great honour for me. Yesterday, I absolutely felt like I was walking in his [Sir Edmund Hillary's] footsteps when I visited Kunde and Khumjung because those were the communities he spent a lot of time in and helped build hospitals and schools," says the New Delhi-based non-resident ambassador who was in Nepal recently to mark the 65th anniversary of the first ascent of Everest. "For a New Zealand diplomat to follow in the footsteps of a national hero is a very special feeling," she added.
During her brief visit to Nepal, ambassador Kempkers flew to Lukla, visited the school and the hospital Hilary built and distributed prizes to the winners of the annual Everest Marathon. It was interesting to visit the hospital in Kunde that Sir Ed had built and to see that facility now has an ultrasound machine. "I even had my blood pressure taken."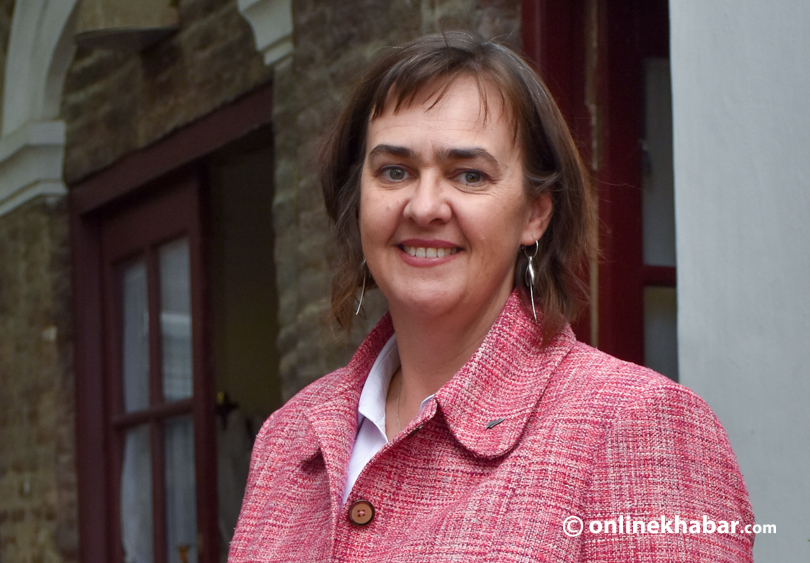 However, it was the 300 students at the Khumjung school that Hillary built, who made her believe that although Hillary is no more, his legacy lives on. "The 300 students were smartly dressed bright-eyed, happy to be there and proud of what they had achieved," remembered the ambassador.
In addition to that, during her visit, she met Kiwis from different walks of life, all of whom reminded her the special ties between the two countries. "New Zealanders continue to come to Nepal to climb your mountains, not just Everest. I think mountaineering is at the bedrock of our relationship."
It is as a part of this enduring relationship that the Kiwi government is helping Nepali surveyors remeasure the height of Everest after the changes caused by the 2015 earthquake.
Ambassador Kempkers' connection with the legendary climber and his feat in Nepal is not just about her profession, it's also personal. During the trip, it was a Kiwi who piloted the chopper that flew her to the Everest region and it was again a Kiwi who won one of the races in the Everest Marathon.
But more personal is her connection with the great climber from Auckland, who was the only living person to be featured on New Zealand currency.
"My father actually wanted to name me Hillary; he was so impressed with the achievement of this great man. My mother said we need to give her a name that will work in both English and in Dutch [as my father was Dutch]. That is why they chose Joanna. Hillary was definitely on the shortlist." (onlinekhabar)